There is an up-side, silver lining to almost anything. Today's is the simplicity of organization as provided by Google Photos. Awhile ago I added Google Photos to my personal and professional workflow when iPhoto began to no longer meet my needs personally AND I committed to integrating my our tri-platform life. In my family we are Mac-Android-Windows people and it all has to work together seamlessly. Google Photos provided the functionality of automatically syncing my photos between all my devices. For the work I do as a teacher, a digital media arts teacher, this was invaluable and my student's workflow looked like this:
Take photos with iPad or Smartphone with Google Photos App
Google Photos automatically syncs the photos with your assigned Google account. Since my school uses Google Apps for Education (GAFE) I've chosen to use Blogger as their blogging tool (Blogger just got a bit of a facelift but the app was removed from the app store awhile ago and has not yet returned- this is my only complaint about Blogger)
My students then return to our classroom, equipped with iMacs. They login to their blogs and can easily add the photos they have just taken through the GAFE suite of apps working together nicely
In the image below you see adding image give you the option of image from your "phone" which in this case means your smart device with the Google Photos App with sync enabled.
My photo storage overview and networked publications looks like this:
[For the record right here is where I decide that I need to build another WordPress site, my Edtech portfolio site. Linkedin in is a great start and all, but I'm an artist, so-]
Today's great sorting was the mobile photos taken with my various Samsung smartphones from January 2015 to present.
Again, extolling the virtues of Google Photos this process was super easy. Right before I had to back away from all things digital I had begun migrating from one Gmail email address to Gmail another for all primary communications. I lived in the half life between identities throughout my recovery. Photos uploaded to the old gmail addy, email and calendar part of the new gmail addy. One computer connected to Google Drive for the old Gmail, one for the new. My head not clear enough and my eyes too unfocused to prioritize cleaning this up until now. Rebuilding my digital world I realized how I had become a full citizen of the Cloud in the Google neighborhood. Here the living is easy or as you see on billboards "If you lived here you'd be home by now."
We all belong to a few technology tribes. Mine is in the country of Google, State of Mac, Town of Android? Migration of accounts in today's world can be a chore. Your email address is part of your digital identity. It becomes a key. With Google the migration was smooth for me. It helps that my work life is also in the same country of Google, State of Mac where Android users have equal access and opportunity as your time and talent allow.
First step was to organize the photos in the old Gmail account. Careful packing and sorting for the move. I logged in to the 'old' Gmail and navigated to photos. To appease my OCD I created albums for each month of the year- it would be nice if this was an optional feature of the Assistant. This initial look through the photos also allowed me to edit out the purse shots of nothing, unintentional burst shots and the like. I've been slowly- meaning in no hurry as something to do when I have time while watching TV or listening to the news- assembling these albums over the past few weeks. January 2015 to January 2017 is 25 albums in total. In addition to monthly albums I also have many albums of events or collections that I've created over time. All these photos are captured in the monthly albums, so I have them. The topic albums I'm going back for at another time for some additional projects.
Photographs are to be printed, otherwise you are a digital hoarder.
One of the many things I've wrestled with as our lives have moved from exclusively analog to mixed-media is how to synchronize and catalog it all. As part of the last few pre-internet generations I grew up admiring the physical collections in people's homes- books, albums, artwork. The homes of older people were museums that held the tangible treasures of their lives. Physical artifacts that told the story of their curated lives. I often wonder with so much of our lives being digital how does this change how we encounter one another and our artifacts? Sure, I can perform and exhaustive search on you before we first meet and I'll not only be able to recognize you physically when we meet for lunch but I'll have a handful of information about your background without the humanity that ties it together. I think about this more and more myself as someone who treasures stories and the ways in which information is revealed to tell stories.
In my photography and film classes I tell my students that beautiful photography is meant to be printed and we capture images to that aim, as art and artifacts. For me I also use photography as part of my journaling and note-taking in the world. These visual bookmarks may be collected digitally but they are useless to me unless I can see them as a whole and easily move them about- these leads me to the output of paper. In this case, contact sheets. Here is what I did.
Download the Google Photos App and use it to back up photos taken with all your mobile devices.
To create contact sheets of your photos on your desktop navigate to photos.google.com to see your Google photos.
I prefer to create monthly or subject themed albums.
Download each album. Downloads are in ZIP format.
Unpack the ZIP file and open the folder with the images.
Select all the images and open them in Preview.
Select all the images and select print.
In the print window change the layout so that you are printing 6 images per page as in the image below.
Save as PDF and voila- contact sheet. This is a quick way I'm creating my visually library for last year to reference those photos- and their location, for personal projects. Since I use the photos as visual bookmarks for stories the convenient size is easy to slice up with a paper cutter and create a deck of photos for each month.
One of the best parts of this organizational process for me is coming across gems like these: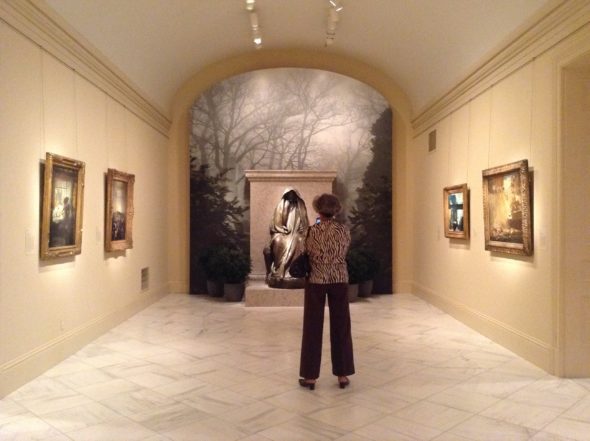 This was in May 2015 when in a confluence of events I don't recall I ended up in the National Portrait Gallery with my Mom and took her to see my favorite sculpture there- the Adams Memorial. In my personal gap year and during photography school I had a weekly date with a Smithsonian. Lingering here was a favorite. I was captivated by the sculpture itself, the serenity it embodied, the androgyny, the woeful contemplation. Intentionally when I visit art I will not read the placard until after I've had my own experience and observation. It was over two years before I learned the name of the statue or read the placard and learned the story behind the Adams Memorial. Taken with my iPad mini.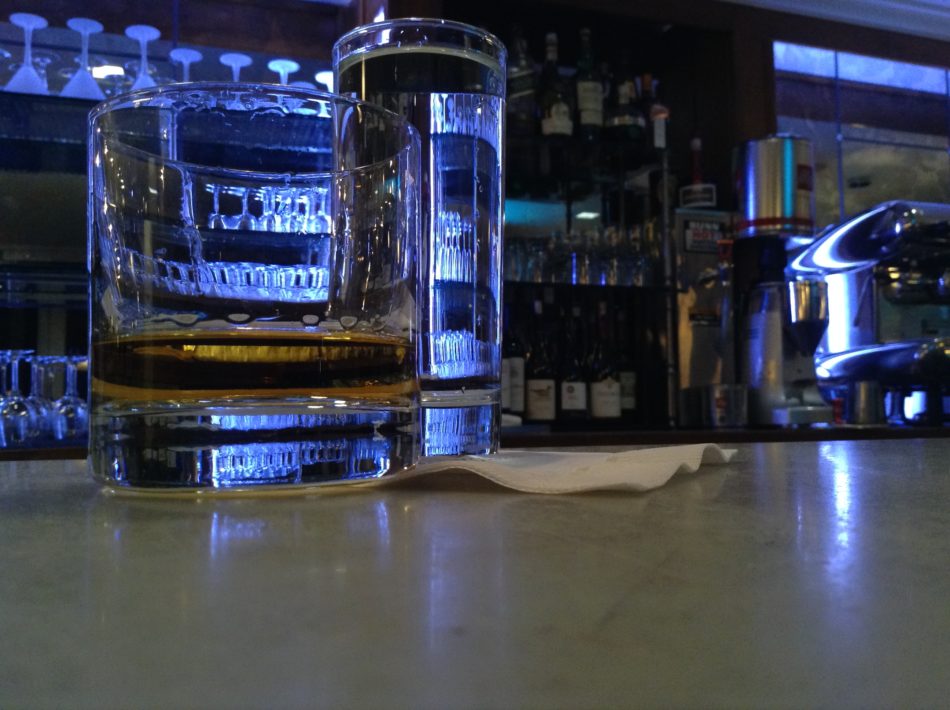 And this one, taken while working a job in a fancy hotel downtown. On a dinner break. Also taken with my iPad mini. This one is just pretty.